About the Cast
Aga, the depressed lead vocal of a band (Van Fan)
Occupation: a depressed lead vocal of a band in Taipei who is back to Hengchuen to
be a substitutive postman
Mission: the lead vocal of the new band who has to write two songs in three days, and
furthermore, has to send the love letters from Japan to Cape No.7!
About Van Fan
Van released his first album in 2002, and became well-known for singing the theme song "I Believe" of the Korean film My Sassy Girl. Two years ago, he started to perform on stage and TV dramas. Cape No.7 is his feature film debut.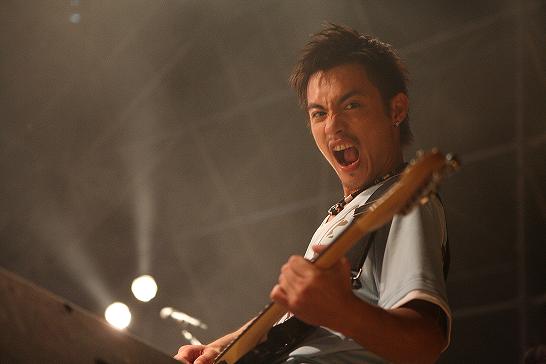 Tomoko, the coordinator from Japan (Tanaka Chie)
Occupation: the coordinator from Japan
Mission: to organize a concert in three days with a motley crew forming a band
About Tanaka Chie
Tanaka was born in Tokyo, Japan. Her film credits include Ping Pong, Initial D and Spring Snow. While performing in the film Initial D, Tanaka couldn't speak Chinese at all, but she realized how important the Chinese language is for an actress, which was why she came alone to Taiwan to learn Chinese. Cape No.7 is the first time she stars in a feature film.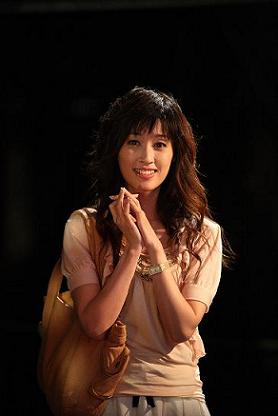 Frog, a single-hearted grease monkey (Wei-min Ying)
Occupation: a grease monkey in the motorcycle shop, who has an unrequited affection for his owner's wife
Mission: the drummer of the band and the nanny of his owner's triplet sons
About Wei-min Ying
Ying is the lead vocal of the band "The Clippers", who is best-known for the song "Turn on the Disco Ball". His exaggerative performance and unique look have attracted several filmmakers to cast him in their films, including Better than Sex by Chao-pin Su and the Best Short Film of the Golden Horse Film Festival The Magical Washmashine by Yun-chan Lee.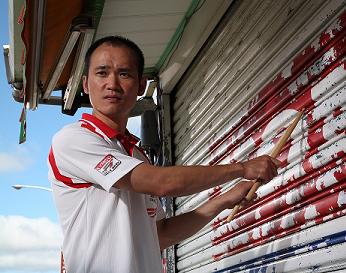 Rauma, an ill-tempered policeman (Ming Hsiung)
Occupation: formerly at the SWAT team and now a policeman maintaining the traffic
Mission: the guitarist of the band
Situation: He dislikes and fights Aga all the time, without knowing why.
About Ming Hsiung
He released his first album "Follow the Moon Running" in 1999. He has a natural, wild and weather-beaten voice. He is planning to perform on stage and in TV dramas, and even to be a TV host.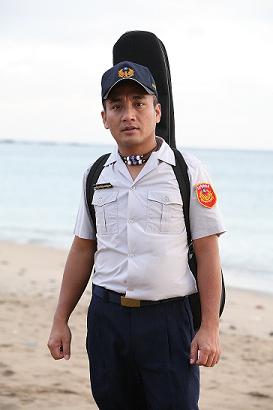 Dada, a ten-year-old prodigy (Joanne)
Occupation: a schoolgirl in the elementary school, who originally played the piano for the church choir but was then fired because of her fanciness in playing.
Mission: the keyboardist of the band
About Joanne
She is currently studying at Forest School, good at mimicry and theatric performance. She has the innocent face of an angel, and is responsive and witty.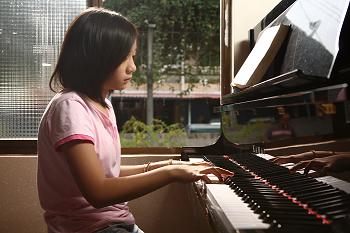 Malasun, a diligent millet wine salesman (Nien-hsien Ma)
Occupation: a millet wine salesman, whose holler often startles the tourists
Mission: to sell the aboriginal millet wine in Hengchun as a diligent Hakka, with hidden talents in music enough to be the bass guitarist of the Hengchun motley crew band…
Byword: Malasun! Let me pour one for you!

About Nien-hsien Ma
Ma is the lead vocal and guitarist of the band "Sticky Rice", who has far-out and funny image. This talented singer is also a songwriter and a great actor, who starred in the feature films, such as Love Go Go and Like a Hero.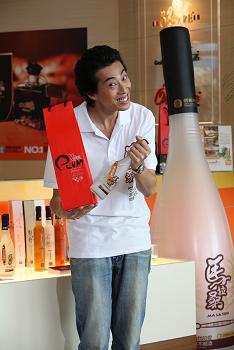 Old Mao, an old postman with a talent in yukin (Johnny C.J. Lin)
Occupation: a postman who can only play yukin and broke his leg in an accident
Mission: He was the bass guitarist of the band, but he knows nothing about bass guitars and insists on getting on stage by any means…
Situation: He insists on playing yukin on stage in the concert…
About Johnny C.J. Lin
He is a Beiguan master in Taiwan, and this is his film debut. His English name is Johnny C.J. Lin, which shows his ambition to promote his career in Hollywood.