CAPE NO. 7

Film Fact
"Cape No. 7" is about the unwavering pursuits for music, dreams and love and provides a lavish presentation of South Taiwan's breathtaking scenery through its top-notch cinematography.
Director Wei, a former assistant director under the legendary Edward Yang, has exquisitely portrays a hidden love from the 1940's Japanese-occupied Taiwan. Unable to disclose his affection for a Taiwanese lady prior to returning to Japan, a Japanese teacher reveals his love in seven unforgettably passionate letters. Although these letters weren't mailed until some 70 years later, they ignite a series of events and become a catalyst of another inter-cultural love affair.
"Cape No. 7" received strong word-of-mouth during its initial release in Taiwan resulting in local box-office surpassing not only Ang Lee's "Lust: Caution" and "Crouching Tiger and Hidden Dragon" but also such international blockbusters as "The Lord of the Rings: The Return of the King" and "The Lost World: Jurassic Park." "Cape No. 7" is now the highest-grossing film ever produced in Taiwan and is on its way to becoming the highest-grossing film ever in Taiwanese box-office history.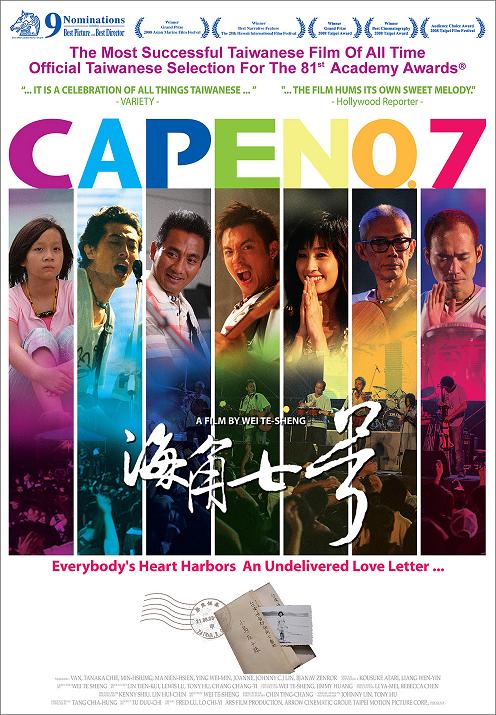 Synopsis
Over 60 years ago, Taiwan was recovered, and the Japanese had to be evacuated. A Japanese male teacher on board the ship leaving Taiwan for Japan left his lover alone in Taiwan, whose name was Tomoko. He couldn't express his feelings toward Tomoko personally, so he wrote them down in seven letters.
After 60 years or so, almost everything has changed in Taiwan. People are striving for their lives. Seven ordinary persons with their own dreams for music—Aga, the depressed lead vocal of a band; Old Mao, the old postman who can only play yukin; Frog, a grease monkey fixing motorcycles; Dada, a girl who plays piano for the church choir; Malasun, a millet wine salesman; Rauma the policeman and his father—who are not related at all are now playing in one warm-up band for a concert at the beach. They have to be ready in three days, which worries Tomoko, the coordinator from Japan, very much.
Aga is a substitutive postman who does nothing but piling up the mails in his own room. Among the mails, he discovers a package from Japan, with the old address of "Cape No.7, Hengchung County" on it. Out of curiosity, he opens the package and finds that the letters inside it are all written in Japanese, which he cannot understand at all. Therefore, he takes no notice of it and puts it under his bed, pretending that nothing has ever happened.
With the performing date approaching, these seven persons realize that it could be the only way for their dreams to come true, which is why they start practicing. But the hostility between Aga and Tomoko hinders the band from progressing. Finally, on a wedding reception in town, after a couple of drinks, Aga and Tomoko show their loneliness, and express their feelings hidden under their seeming anger, which results in a one-night stand.
In Aga's room, Tomoko sees the package from Japan and learns that it contains seven unsent love letters from 60 years ago. She asks Aga to deliver the package to the receiver of it, but the address on it no longer exists. The Japanese singer is coming soon, and the warm-up band is still a mess. Will their music dreams be realized eventually? Will the love letters that have lain dormant for 60 years be sent to their receiver who is also named Tomoko?
You can only live once, but you may have a zillion dreams. Only if you strive to reach your goal can you know whether the chance is yours or not…
About the Film
Extradition of the Japanese aliens
The story of "Cape No.7" begins with the extradition of the Japanese aliens. When the Japanese Colonial Period ended, all the Japanese in Taiwan had to be extradited to Japan. It marks the end of an era, leaving not only regrets and hatred, but friendship, affection and love. We make an assumption that a teacher was in love with his student at that time. When they could finally be together, they were forced to be separated by the ending of the war. The story is derived from the pity of love, and thereby comes an old address from the Japanese Colonial Period.